A Journey with Jan Clemens through the local flavors
Savor the vastness of North-East Italy on this 9-day trip. Along the Italian Alps and through the Veneto region-discovering that there is much more to this magical land that meets the eye. With picture perfect sceneries accompanied by the undiscovered richness in taste, you will remember this once-in-a-lifetime experience. From tasting and experiencing what locals in Venice do, to cooking alongside fishermen there is an itinerary so vast you won't be able to get enough.
What is there to do in Veneto and Trentino Alto Adige? Just click the itinerary details tab above or fill out the form to the right! Each day, you'll have the ability to uncover the authentic Veneto region as well as Trentino Alto Adige that Italian locals love -- connecting with the real people... far from the tourist crowds.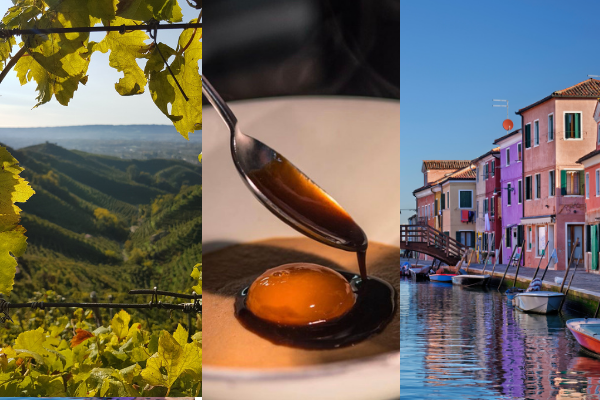 Delicious Day-by-Day Details:
Day 1 - WELCOME TO VENETO
» Arrival at Venice International Airport. An English-speaking local expert will greet you at the airport and privately chauffeur you in comfort to your accommodation in Venice.
» After you settle down you will then be whisked away to a rowing tour with stops to favorite bacari's.
» To finish the evening there will be a lovely dinner.
Day 2 - LA DOLCE VITA: SOUTH LAGOON ON THE EDIPO RE
» After breakfast, a private water taxi will bring you from your hotel to Edipo re.
» Once arrived you will board and tour the South Lagoon. With a day onboard, you will have the opportunity to meet local fishermen, onboard cooking, winetasting, and most of all relaxing and soaking it all in! The unforgettable experience of seeing the glittering canal overlooked by palazzors each turning a differnct shade will create a sence of awe.
» Return to your hotel in Venice in the late afternoon.
Day 3 - ARTISANS & LEISURE
» Enjoy breakfast at your hotel and then meet your English-speaking guide for a stroll through the Rialto market.
» After seeing and smelling what makes the market unique, tasting and even buying a couple of knick-knacks if you'd like, you will have to opportunity to see skilled craftsmen and women create. You will be given the front row seat to family secrets and ways that only a few are a custom to, when working materials in such ways. You too can have a glimpse into what makes their heart beat and the passion that they put into their labor.
» Then, you'll be brought to lunch where you will enjoy a local lunch with the only the most fresh ingredients, in great company.
» After lunch you will be able to continue the day as you see fit. Go adventure and have fun!

» Dinner will be with the group, therefor make sure to set a meeting point and time prior! Enjoy your dinner set in traditional Venetian ambiance.
Day 4 - LAGUNA NORD ON A HISTORICAL BRAGOZZO
» Today, after breakfast, you'll take your private transfer with your English-speaking guide to Burano.
» Upon arriving to historic island Burano, you will be enchanted by the beautiful Venetian lagoon. While it has inspired and hosted many visitors throughout the centuries, you will be able to experience first hand how its rich waters have given the people a source of food as well as protection.

»On the nearby island Mazzorbo your knowledgeable guide will take you through a secret passage that exposes a vineyard in the Venetian lagoon.
» The tour of the lagoon continues onboard of a traditional Bragozzo boat! While sailing like an old Venetian you will be able to take in breathtaking views peacefully, along with the wildlife.
» While onboard you will be taken to visit the "valle" da pesca as well as being able to experience moecanti! This traditiaonl Venetian experience will be able to transport you decades in the past.
» After a lovely boat ride there will be lunch to enjoy along the coast of this wonderful lagoon that has much to offer.
» Staying in the vicinity you will visit S. Erasmo, the "pearl" of the islands. Here there is rich history and secrets that the "vegetable garden" of Venice holds.

» Continuing you will also visit the vineyard of S. Elena or S. Michele . Enjoy the taste that the Veneto region wine has to offer.

» To conclude you will travel back to Venice where you can enjoy dinner as you see fit.
Day 5 - TRANSFER & COOKING CLASS
» Have an early breakfast because today you will take a boat and car transfer to your next destination of Valpolicella.
» Then around lunch time it is time to make the famous Italian "sfoglia". Here you will immerse yourself into the various cooking techniques as well as being able to enjoy the fruits of your labor!
» After fully digesting, you will be whisked away to Monte dall'Ora for a wonderful wine experience.
» Once experiencing all it has to offer you will be transfered to your hotel near the top of Lago di Garda.
Day 6 - TRENTINO AND ITS VINEYARDS
» Experience the beauty of the many vineyards Trentino has to offer. Since the beginning when the Romans inhabited this area it has been a region that has produces a wide variety of white, red, and rose wines in dry and sparkling versions.
» After your transfer you will stop at a couple of local wineries, run by the Foradori Family, that has been established since the early 1900's. This winery is centered in the rich culture and awareness of the nature that it's surrounded by. They are a family of entrepreneurs and path makers aimed to create and live sustainably. Here you will take a behind-the-scenes visit and wine tasting with the owners.
» After your wine experience, you'll head to your next deluxe accommodation in Trento.
Day 7 - WALKING & TALKING / TASTES OF VENETO

» Your driver will bring you to Rosà, where you will have the chance to visit a family-run distillery that boasts some of the most fine spirits in the region, where of course you are invited to partake in taste testing.
»On the move is the next stop, Bassano del Grappa. This city is known for its wooden 13th century Ponte Vecchio bride that spans over the River Brenta. There are many medieval sites as well as art and frescoes that are hiding in unexpected places. Here you will have lunch in the city center with a well-known chef that is brings out the best qualities from the area.
» Once you've explored this beautiful town your private driver will then take you to Vicenza. Once you are here you will be transported back to the 16th century with its elegant buildings and architecture. When you are here you might want to visit the Basilica, art gallery, a classic outdoor theater, or drink an espresso in the main piazza under the charismatic charm of the city.
» You will finish off the evening in the city center at a local cantina where you will find delicious local cuisine.
Day 8 - GUIDED TOUR AND PROSECCO
» Today, you will have the chance to further explore Vicenza on a guided tour of the city to dive further into its beauty with insider knowledge, so you are able to grasp all the wonders of this wonderful city.

» Ready for a light lunch? You will be introduced to a local upbeat lunch spot.

»You'll be then taken to one of the best Prosecco producing areas in all of Italy, Valdobbiadene. In the province of Treviso, Veneto this town is situated just below the Alpine-Dolomite area, which provides a cool climate for a specific type of grape. You will be a part of a Prosecco taste test, as well as understand further how these grapes are turned into extra dry sparkling wine. Each cantina has its own history and way of bringing to life their vision through their grapes.

»After your aperitivo, you will be taken to your wonderful accommodation that is on the "Strada del Prosecco" route. Here you will be able to relax and soak in all the wonderful memories!

»Farewell dinner included.
Day 9 - ARRIVEDERCI, A PRESTO!
» Your personal driver will accompany you to the Venice International Airport in your private transfer.
Bye for now, see you again soon!
Dates:
October 20 - 28, 2022. Fill out form to the right to request availability or alterations to this itinerary.
Price: 8,750.00 USD per person, based on double occupancy.