Five main areas draw travelers to Puglia: 1) Bari and the nearby coastal towns, 2) the Valle d'Itria (Alberobello, Locorotondo, Martina Franca, etc), 3) the southern section called Salento (Lecce, Otranto, Castro, etc), 4) the Gargano Peninsula (Vieste, Tremiti Islands), and 5) Puglia's west coast (Gallipoli, Porto Cesareo, Taranto, etc).
VIESTE
Located in northern Puglia's craggy-yet-green Gargano Peninsula, Vieste is a postcard-perfect seaside town. Perched on a pale coastal cliff above the Adriatic Sea, Vieste's old town is a labyrinth of whitewashed homes (with laundry hanging from balconies) and stone staircases that plunge into the indigo sea. Northern Puglia vaunts marine caves (called grotte in Italian), sea stacks (i.e., Baia delle Zagare), dense forests (i.e, the Foresta Umbra) and rugged mountains—the abundance of natural beauty here is no accident, as most of the area is an unspoiled national park. Nearby, you can meander the medieval town of Monte Sant'Angelo, swim at Pescichi's sandy beach, or taste burrata cheese in its hometown of Andrià.
Expert travel tip: The Gargano area is harder to get to than the constellation of towns near Bari and Lecce, so it's best visited as part of 10-day trip or as a stand-alone stop.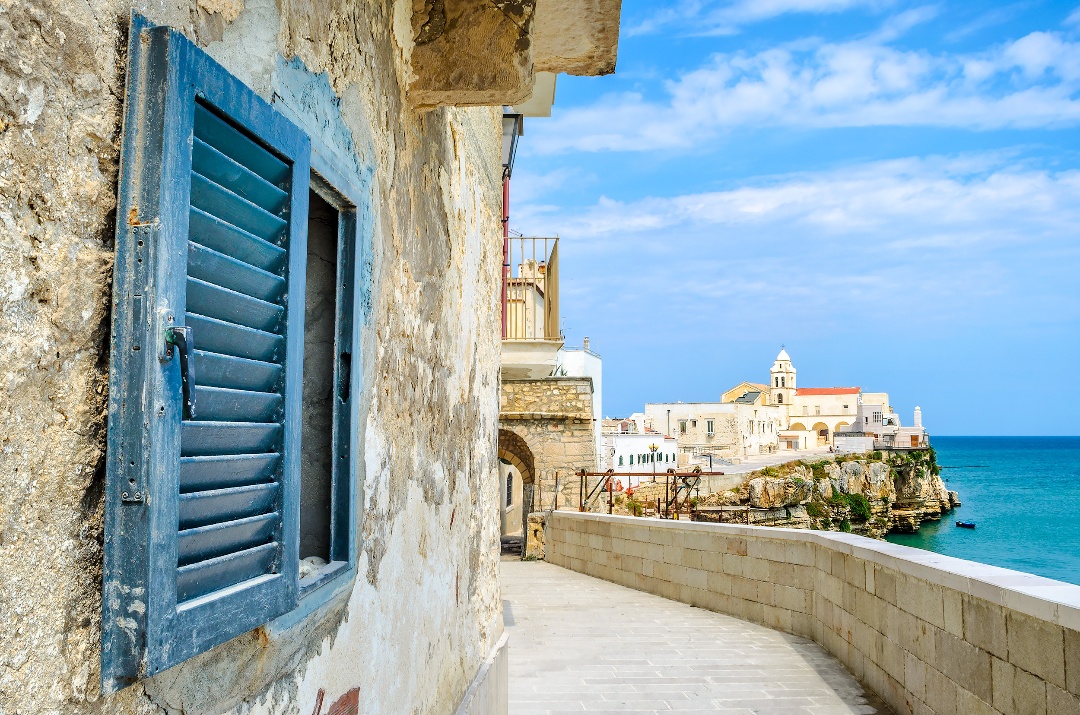 BARI VECCHIA
Bari is Puglia's largest city, boasting one of the region's main airports (BRI) and a population of 326,000. But, beyond convenient flights in and out of Puglia, Bari is worth discovering for its labyrinth of stone streets in Bari Vecchia—also called the Old Town. Jutting out into the Adriatic Sea, Bari Vecchia was once walled in massive stone ramparts; the ruins of these walls still frame the port. Life bustles and brims on Bari Vecchia's animated alleyways and laundry-draped balconies. Wandering the Bari's back streets, you'll see nonnas making orecchiette pasta while seated in front of their homes. While in Puglia, you can shape this ear-shaped pasta with a local in a hands-on cooking class.
Expert travel tip: Enjoy a classic cocktail at the charming La Ciclatera ­– a friendly bar tucked inside a stone cellar. You can sip your drink on the terrace, overlooking Bari's port.
LECCE
Lecce's Baroque beauty leaves you breathless. Often called "the Florence of the South" for its remarkable art and architecture, Lecce was a major of hub of culture and learning in the 17th and 18th centuries. Still the capital of Puglia, Lecce is practically hewn from the golden "Leccese" stone found in the area; this soft limestone lent itself to elaborate hand carving, as reflected in Lecce's intricately-decorated churches and squares—adorned with cherubs, mythical creatures and ornamented columns. As one of Puglia's bigger cities, Lecce is less sleepy than nearby villages like Nardò and Galatina.
Traces of Lecce's more ancient past are still evident here—found, principally, in the Roman amphitheater in the old town's main square. Until 1901, locals were unaware of the presence of this ruin underneath their city! In the evening, hundreds of locals take to Lecce's stone streets for a leisurely passeggiata—just as the setting sun illuminates the Baroque marvels of the city's palazzi and facades. Guests in Lecce can enjoy experiences such as a wine tour of the family-run Li Veli winery, a cooking class with local grandmothers or a salt-kissed day by Salento's sapphire-blue coves.
Expert travel tip: Try the local the hometown pastry – called pasticciotto -- at the Caffe Alvino in Piazza Sant'Oranzo.
OTRANTO
Boasting a striking seaside location in sun-soaked Salento, Otranto is one of Puglia's most scenic salt-aired gems. Abutting an amazingly azure sea, Otranto is just 45 miles from Albania. This historic town has been a locus of trade and culture since the ancient times, when it was Greek colony. As a major center of maritime commerce in the middle ages, Otranto once vaunted an eclectic mix of Catholics, Greek Orthodox, and Jewish traders.
One of the major things to see in Puglia is Otranto's extraordinary cathedral or Duomo. Consecrated in 1088, the church was later embellished with marvelous medieval mosaics in the 12th century – boasting the Tree of Life, Adam and Eve, fantastical beasts, and scenes from the heaven and hell. Other sights in Otranto include the 15th-century Aragonese Castle and Otranto's Lungomare – a lengthy stone stretch –studded with salt-kissed cafes and restaurants– between the medieval walls and Otranto's bluer-than-blue sea.
Expert travel tip: The fastest way to explore the Salento region – including cities like Otranto, Tricase, and Castro – is to land at the Brindisi Airport (BDS) and then transfer to a nearby charming town.
OSTUNI
You'd be hard-pressed to find a more postcard-perfect town in Puglia than Ostuni—affectionately dubbed "the white city" by locals. Perched on a hill above silvery olive groves, Ostuni is a visual symphony of whitewashed homes and sandstone palazzi. Off in the distance, just beyond an endless tangle of olive trees, you'll eye the sun-kissed Adriatic Sea. Here in Ostuni, the Mediterranean sun glints off the town's glimmering white homes—frequently adorned with sapphire-blue doors. Like most medieval cities, Ostuni's streets twist and veer – designed for feet and hooves, not cars. Buildings seem to sprout on top of each other in Ostuni—including over original stone archways and staircases. Visitors to Ostuni can slumber in the historic center or in a 500-year-old farmhouse hotel immersed in the countryside . Other notable things to do in and near Ostuni include visiting Alberobello's cone-shaped trulli, tasting olive oil at a local frantoio (oil mill) or a guided bike ride through Fasano's Dune Costiere coastal reserve.
Expert travel tip: Food-loving travelers should head to Ostuni on Saturdays for the local farmers market—where you can taste creamy burrata, crusty fresh breads, and ruby-red tomatoes.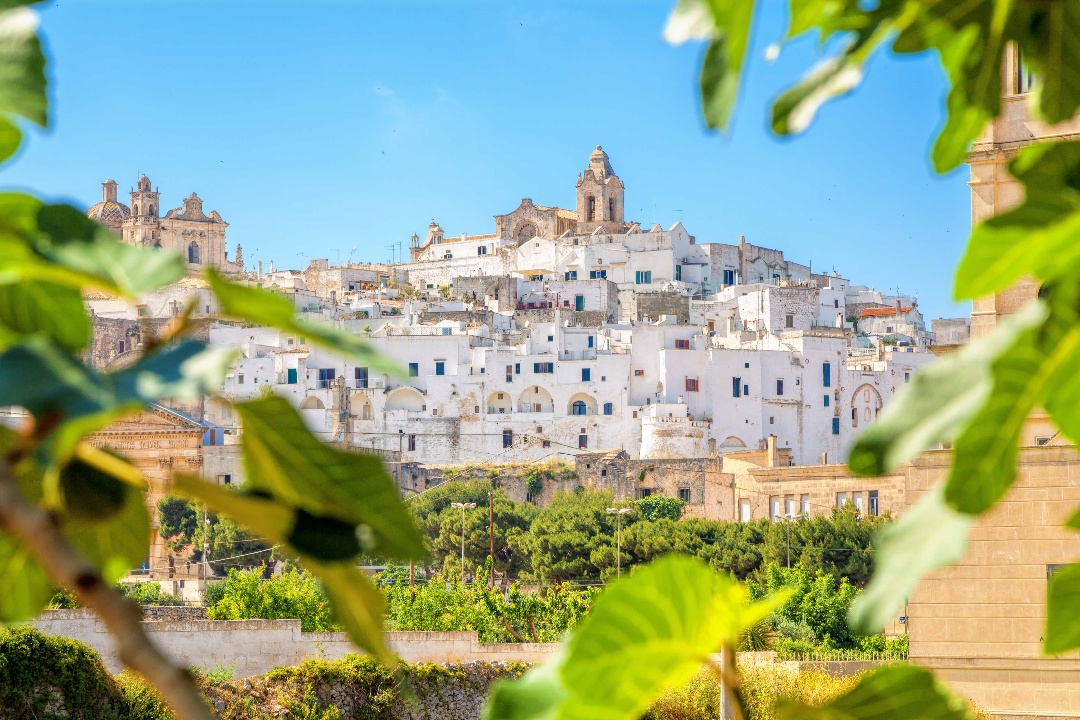 POLIGNANO A MARE
Scenically seat atop a striking sea cliff, Polignano a Mare is a scenic seaside town – composed of white and beige buildings, a maze of stone streets and a protected pebble beach next to a blue-green cove. The Old Town was built on a stone bluff that juts out – stunningly – into the crystal-clear sea. Below it, you'll find Cala Porto – a beach of marble-sized stones, enclosed from the wind and waves by the city's tall cliffs. Polignano a Mare is an easy day excursion from the nearby towns of Alberobello and Ostuni. Just outside of the historic port town, you'll find the ravishing ruins of San Vito Abbey—whose origins stretch back to the 10th century!
Expert travel tip: When visiting Polignano a Mare, you can dine ­al fresco inside a sea cave at Ristorante Grotta Palazzese, where the sound of waves serenade your supper.
MONOPOLI
Less than 20 miles south of Bari, you'll find the calm seaside town of Monopoli. The historic center here faces Puglia's stunning sea – vaunting protective medieval walls and a castle built on a promontory in the 1500s. Monopoli's "paese vecchio" (what the local call the old town) brims with noble palazzi, whitewashed homes and centuries-old churches. Narrow streets snake between elegant facades, leading to the city's harbor—where brightly-hued fishing boats, called u vozz in the local dialect, bob in sapphire waters.
Expert travel tip: Monopoli's location between Bari and Salento make it an ideal place to stay overnight—perhaps at the elegant Don Ferrante boutique hotel.
ALBEROBELLO
In Italy, the Puglia region is synonymous with the cone-shaped trulli that you'll find in the Valle d'Itria – an olive-filled valley outside of Ostuni. Alberobello is this area's prime tourist destination with good reason – it's the only town in the area made up entirely of these traditional stone homes. Alberobello alone boasts over 1,500 trulli—often clustered together on pedestrian-friendly alleyways and winding rock-draped roads. The trulli's iconic roofs pieced together by hand from local gray stone, using absolutely no mortar to hold them in place.
Expert travel tip: Avoid the tourist-clogged main street (Rione Monti) and uncover the quieter Aia Piccola with a private guide; this local-only neighborhood feels much less touristy and houses 400 trulli where the town's residents still live.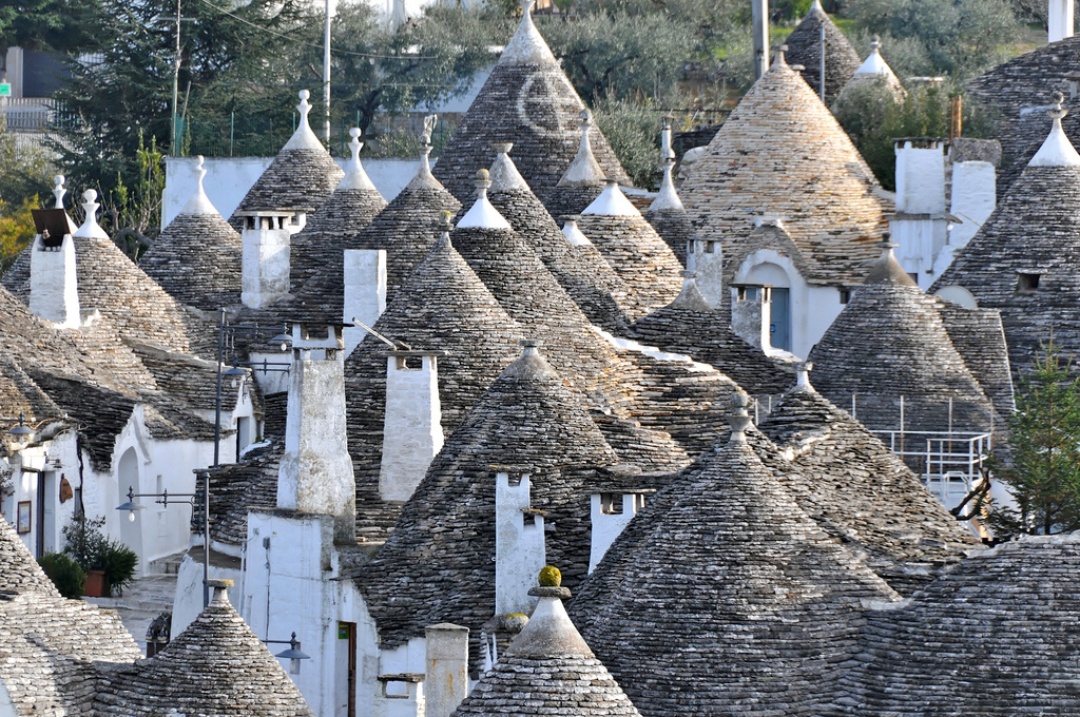 CASTRO
Castro is a clifftop gem deep in the Southern Puglia. On a clear day, you can eye from here the Greek isles and the Albanian coast. Castro's 13th-century castle stands guard over city and the port. In the old town, you'll find a maze of meandering streets and stone staircases, carved into the cliff, that plunge in Puglia's blue waters. In the summer months, charming seafood restaurants and wine bars open along the town's sea-facing terrazza. Castro's harbor is a visual feast — home to wooden fishing boats, crystal-clear waters and swimmers enjoying the Pugliese sun.
Expert travel tip: You can enjoy a stunning sailboat ride from Polignano a Mare to Castro and back.
GALLIPOLI
While Puglia's Adriatic coast is home to craggy stone coves and wind-carved grottoes, the region's west coast boasts a long swath of sandy beaches hugged by light blue water. Gallipoli, which means the "beautiful city" in Greek, faces the glittering Ionian Sea. Gallipoli's historic center is found on a fortified island that's linked to the mainland via a 17th-century bridge! Almost entirely enclosed in defensive stone walls, the old town today is home to seafood restaurants, charming side streets and Baroque buildings. You can enjoy a day by the beach without leaving town at the sublime Spiaggia della Purità.
Expert travel tip: The west coast of Salento brags some of Puglia's most pristine beaches. Some that can easily be reached (in a car) from Gallipoli include Punta Suina, Pescoluse and Punta Prosciutto.