Off the beaten path Northern Italy
Whether you want to visit a goat cheese farm, ride the UNESCO Bernina Red Train, or visit top lakes like Lake Iseo or Lake Como, the Valtellina & Franciacorta area are filled with cultural, culinary, and active experiences for all types of travelers.

More importantly, however, is that all the experiences you will take part in are in line with our core values – they are authentic, handcrafted, and allow travelers to savor Italian life while creating human and emotional connections with the locals.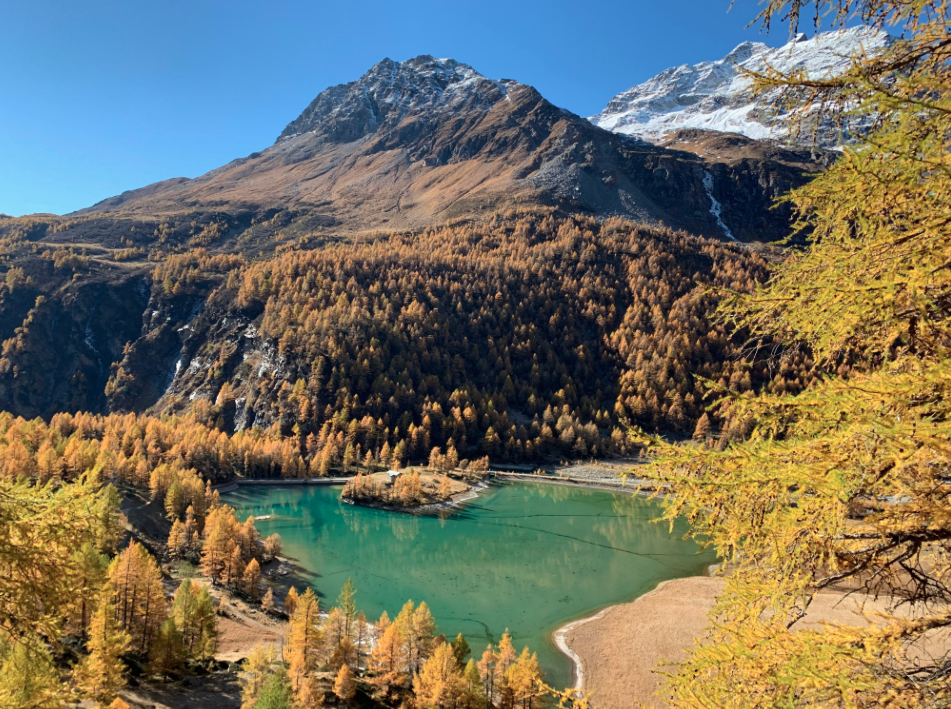 DAY 1 - TRANSFER TO LAKE ISEO WITH STOP IN BERGAMO FOR LUNCH

» After your arrival in Milano Malpensa Airport, clear any entry formalities and meet our See Italy Staff and driver in the arrivals hall. You will then transfer to Lake Iseo, one of the most charming lakes in Northern Italy.

» On our way to Lake Iseo, we will stop in Bergamo Alta for lunch. Walking along the charming medieval streets of the upper part of the city, we will reach Piazza Vecchia, the living room and heart of the city framed by the ancient palaces, once the city's government offices, and the majestic Civic Tower, known as Campanone, as well as the Duomo square with its jewels, namely the unique Basilica of Santa Maria Maggiore, a jewel of Romanesque art, the Cathedral, the Baptistery and the Colleoni Chapel, outstanding Renaissance buildings. Surrounded by the history of this incredible historic center, you will discover plenty of lunch possibilities where you can try some of the typical local dishes, like the "casoncelli" with sage and butter or a piece of Donizetti cake for instance.

» We'll then continue towards Lake Iseo where you will check-into your 4-star accommodation for 4 nights. Daily breakfast included.

» You will then have some time to settle-in and relax before our welcome dinner at the Hotel's restaurant.
DAY 2 - LAKE ISEO BOAT TOUR, FISHERMEN'S EXPERIENCE AND BRESCIA WALKING TOUR
» You will depart from the private dock of the Hotel Rivalago onboard of an exclusive Riva boat leading you to visit the islands of the lake. You'll arrive in Carzano, one of Montisola's municipalities, at the Locanda al Lago to meet a local fisherman for a talk and tasting in his trattoria. Monte Isola is the largest inhabited lake island in Europe where cars are completely forbidden and one of the most beautiful Italy villages. The dried sardine typical of Lake Iseo is a symbol and staple in the slow food movement. The fisherman's family has been a family of fishermen in the Lake Iseo for four generations.

» Time at leisure on Montisola for lunch.

» In the afternoon we will take a 40 minute ride to reach Brescia for a private guided walking tour of the town. The city known as the Lioness of Italy, boasts the majestic remains included in the UNESCO World Heritage List as part of the site "The Lombards in Italy", as well as the medieval cathedral called La Rotonda and the Renaissance Piazza della Loggia.

» Aperitivo and light dinner included in Brescia.

» Transfer back to the accommodation after dinner.
DAY 3 - A DAY IN FRANCIACORTA

» In the morning you will reach Borgo del Maglio, where you will meet an iron forger. The ancient Maglio dates back to the '400 and was active through the '900. Today a small group of volunteers forging iron keeps the place alive and produce ancient damask blades.

» We will then take a walk of half an hour on a nice and easy hiking path surrounded by chestnut trees to reach a local winery for a light lunch with local food paired with Franciacorta wines. This is the ideal place to be in tight contact with nature, discover ancient traditions, taste genuine food paired with Franciacorta wines and walk among century old trees.

» We will then take you back to Lake Iseo and give you the chance to enjoy at your leisure the little town of Iseo, one of the most important ones along the Brescia shores, which gives the name to the lake itself. Take the chance to wander around the little medieval core of Iseo and discover nice little boutiques or take a coffee break in front of the lake or have a dinner on own in this cozy little town.
DAY 4 - COOKING CLASS AND MILKING EXPERIENCE
» Depart from the hotel and meet your gastronomic guide and go shopping for your cooking class. The Polazzi family has been a master since four generation in butchery, working with meats and producing genuine cold cuts and cheeses with respect to the ancient traditions, presenting all the flavors of the Franciacorta land with refined elegance.

» You will enjoy a cooking class at the chef's home in an elegant and relaxed family atmosphere. The chef will welcome you and show you the ancient food and wine traditions and the art of hosting typical of the Italian culture. You will have lunch together with the dishes prepared and paired with Franciacorta wines.

» After lunch, you will also have the chance to visit the cellar of the estate.

» In the afternoon, we will reach a cheese farm where we'll enjoy a cheese tasting and milking experience. This family run farm raises heritage breeds of Italian dairy cows. The family has raised cows on land surrounding the Olivetan Abbey for three generations.

» Enjoy a fish-based dinner in a cozy atmosphere at a local restaurant.
DAY 5 - TRANSFER TO VALTELLINA

» Check-out from your accommodation on Lake Iseo. Get ready for a private transfer to Tirano through the Camonica Valley, famous for Cemmo rocking engraving park, a UNESCO World Heritage site.

» We will stop at Edolo for lunch and for a personal discovery of the so-called Town of the Alpini, surrounded by the beauty of the mountain massif of the Adamello National Park and the Brenta Dolomites range. Breath some fresh air and enjoy the little cobblestoned alleys of the historical center of Edolo.

» Then proceed towards Tirano where you will check-into a 4-star hotel, where you will spend the following 3 nights.

» Enjoy some time on own in the town after a brief orientation tour.

» You will then meet your tour escort in the lobby of the hotel before you reach a local restaurant for dinner.
DAY 6 - PIZZOCCHERI CLASS AND CIDER TASTING

» Today we will reach a charming winery located in a context of a sixteenth-century monastery. Here we will enjoy a cooking class focused on the famous pizzoccheri, a typical Valtellina dish, followed by a light lunch and wine tasting.

» After lunch, we'll reach a local farm producer of the highest cider in Europe and winner of many international awards. It's a small family-run business located in the splendid setting of Valtellina, it was initially dedicated to the cultivation of apples, and over the years it has been transforming its high-quality raw material into sparkling Cider.
DAY 7 - BERNINA TRAIN EXPERIENCE: FROM TIRANO TO ST. MORITZ
» After breakfast, meet your guide at the hotel lobby and walk to the train station where you will embark on the UNESCO Bernina Red Train from the station of Tirano and stop in St. Moritz where you will enjoy a pleasant walking tour hearing about costumes and history of the place. You will then reach the picturesque city center for lunch reserved at a local restaurant with a beautiful view over the lake.

» Enjoy some time at leisure in St. Moritz before your transfer back to Tirano by private vehicle.

» Rest of the day and dinner on own in Tirano.
DAY 8 - GOAT CHEESE FARM EXPERIENCE AND BELLAGIO
» After breakfast and check-out, you will head to a small village where we will visit a local Farm, owned by a family of goat breeders. Learn more about this family run farm and enjoy a genuine goat cheese tasting at the end of your visit.

» You will then head towards Bellagio where you will spend 2 more days in front of the romance of Lake Como.

» Check-into a 4-star hotel and enjoy the rest of your afternoon in the picturesque village of Bellagio, the so-called "pearl of Lake Como", one of the most famous and noble resorts on the lake, with beautiful noble residences and naturalistic-environmental features of remarkable charm.

» Tonight, dinner will be included at a local restaurant.
DAY 9 - LAKE COMO & ITS VILLAS

» After breakfast you will take a private boat to reach the town of Tremezzo, where you are going to discover one of the most famous and interesting villas on the entire lake Como area, Villa Carlotta. A place of rare beauty where masterpieces of nature and human genius stand together in perfect harmony for over three hundred years. Villa Carlotta safeguards and promotes a unique historical, artistic and botanical heritage on Lake Como, making it available for all to experience.

» We'll then reach the picturesque fisherman village of Varenna, with the typical painted small buildings, taste a Spritz by sitting comfortably in one of the benches along the Greenway of the Patriarchs, also called "Path of the lovers", a small romantic walkway over the lake.

» Gelato experience at the best gelateria in town with the owner in the afternoon as a last sweet taste of your adventure in Northern Italy.

» In the afternoon we'll reach the beautiful neoclassical villa Melzi d'Eril immersed in one of the most beautiful English style gardens in Europe.

» Farewell dinner in Bellagio in a typical local restaurant.
DAY 10 - AIRPORT TRANSFER
» Meet your English-speaking driver at the hotel for the private transfer to the airport.
SMALL GROUP JOURNEY: minimum 6, maximum 12 guests per departure

DATES:
June 5-14, 2022
October 1-10, 2022

PRICES:

6,825.00 USD per person, based on double occupancy

Double single use supplement on request.

Book within 31/01/2022 and receive a 500.00 USD discount


INCLUSIONS:
4 nights at a 4-star hotel in Lake Iseo area. Breakfast included
3 nights at a 4-star hotel in Tirano. Breakfast included
2 nights at a 4-star hotel on Lake Como. Two dinners and breakfast included
Private transfers and transportations with personal drivers for the whole itinerary, as specified in the itinerary
Full day and half day visits with local, English-speaking guides, as specified in the itinerary
Aperitivo and light dinner in Brescia
Visits and tastings at the Franciacorta winery, milking and cheese making experience, Cider farm, Valtellina Goat cheese farm, gelato tasting
Cooking class at a local's home with lunch and wine tasting
Pizzoccheri making class at a winery with lunch paired with wines
Bernina train tickets from Tirano to St. Moritz
Entrance fees to Villas on Lake Como
Meals at restaurants, wineries, farms as specified in the itinerary
Assistance of a See Italy Travel tour leader for the whole stay
EXCLUSIONS:
All meals not included above
All activities not included above
Travel Insurance
Gratuities
Items of a personal nature
Hotel city tax

We require a 1,500.00 USD deposit upon confirmation. Balance due 60 days prior to the trip

Please note that the June journey can be booked within March 5th, 2022 and the October one within June 9th, 2022.